SIP Meetings
---
SIP Annual Conference 2021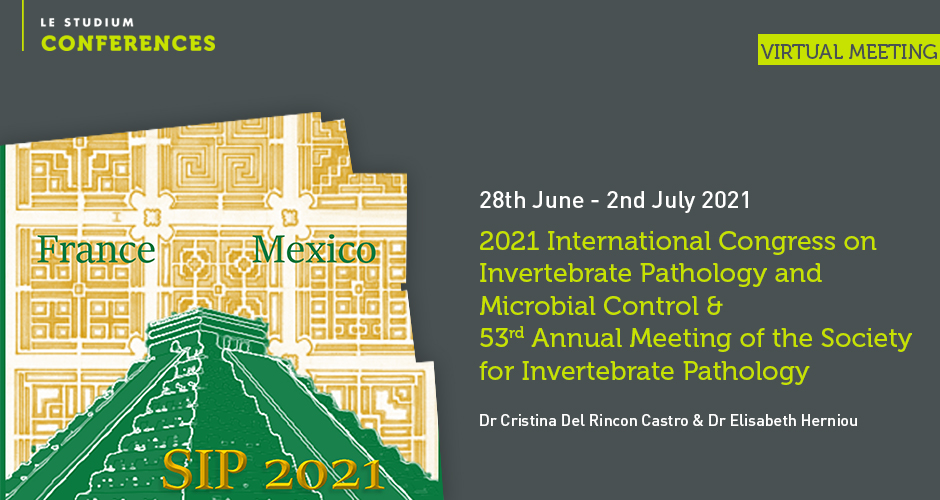 Virtual Meeting
June 28, 2021 - July 2, 2021
SAVE the dates!
The Annual Meeting 2021 planed for Port Elisabeth, South Africa has been postponed to 2022 because of the ongoing COVID 19- pandemic;but we are happy to announce that the 2021 SIP Annual meeting will be maintained as a Virtual meeting from June 28th to July 2nd, 2021. The meeting will highlight issues on : Microbial Control, Current challenges for the microbial control of Spodoptera frugiperda, Invertebrate pathology and Insects for food and feed. The meeting is organized by the French Conference team, (LE STUDIUM), and the convenors are SIP members Cristina Del Rinçon (Mexico) and Elisabeth Herniou (France). All information related to the meeting is available on http://www.lestudium-ias.com/event/53rd-annual-meeting-society-invertebrate-pathology The meeting website will be updated regularly. Please be aware that for abstract submission (deadline April 20th, 2021) the registration fee payment is required.

This year it is also possible to apply for the Mauro Martignoni Award and for the Early Career Award. We will also organise a student competition for the best oral presentation. Information on the award application procedures will be posted on the meeting website soon. We are looking forward to sharing our science again and hope that the virtual format will both be attractive for the convinced SIP'ers and a great occasion for new-comers to meet and to be enrolled in the SIP community.
---

SIP Annual Conference 2022
Date to be announced
Port Elizabeth, South Africa
Venue: The Boardwalk Hotel
Meeting venue carried forward from the 2021 postponed meeting due to Covid pandemic
More information coming soon.
---
If you have a meeting that you would like to post on our website, please contact us, sip@sipweb.org