Golden Jubilee Conference
of the Society for Invertebrate Pathology
August 13-17, 2017
San Diego, California
---
Society for Invertebrate Pathology (SIP) will be celebrating 50 years of science at the Golden Jubilee Conference on the University of California San Diego campus in La Jolla from 13 to 17 August, 2017.

About SIP: SIP is the premier scientific society dedicated to basic and applied research in diseases of invertebrates.  Founded in 1967, SIP hosted its founding meeting in Seattle.  Following its first annual conference at Ohio State University, Columbus, OH in 1968, annual conferences have been held in many locations in North America and other parts of the world.  SIP conferences attract scientists, researchers, extension educators, students, and agricultural industry collaborators from around the world who share their research, exchange ideas, and explore networking opportunities in the field of invertebrate diseases.  SIP has grown from having its first Microsporidia Division in 1969 followed by the Microbial Control Division in 1978 to its newest division Diseases of Beneficial Invertebrates formed in 2012.  With Bacteria, Fungi, Nematodes, and Viruses Divisions, SIP members explore basic and applied aspects of microbial control of arthropod pests, diseases of beneficial invertebrates such as pollinators, natural enemies, and marine invertebrates.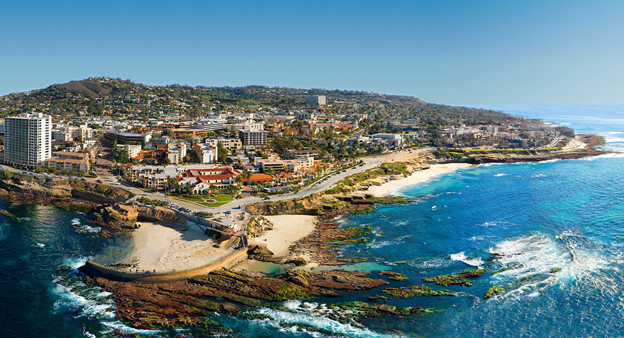 University of California San Diego Campus

Conference outline: Conference starts with a mixer on Sunday evening followed by scientific meetings from Monday to Thursday.  We will celebrate the contribution of SIP to 50 years of research in invertebrate pathology and its different disciplines by a series of lectures on Monday morning.  Social events at the conference include a 5K walking or running race, excursions to the San Diego Zoo and the USS Midway followed by a barbeque at the Birch Aquarium on Tuesday, and a banquet at the Estancia La Jolla Hotel on Thursday.  Division business meetings are held during the evening hours of Monday and Wednesday.  The Society business meeting, which is open to all conference attendees, is held Thursday morning.
---
Scientific program: Members, the Divisions, Founder's Lecture Committee, and Scientific Program Committee put together the scientific program that includes a Golden Jubilee Presentation, a plenary session, contributed oral and poster presentations, and multiple individual or cross-divisional symposia.
Short Program-Final (PDF)
ORAL PRESENTATIONS: Instructions for naming and uploading presentation files
It is URGENTLY IMPORTANT that you upload your presentation files at least a day before your talks. We strongly discourage uploading of files minutes before your session.
Here is the schedule of when and where to upload your files:
| | | | |
| --- | --- | --- | --- |
| Day | Location | Time |   |
| Sunday | Village, near registration table | 2:00 – 6:00 pm | Monday talks ONLY; required for all plenary speakers |
| Monday | Revelle Room at Price Center | 7:30am – 5:00pm |   |
| Tuesday | Revelle Room at Price Center | 8:00am – 11:30am |   |
| Wednesday | Revelle Room at Price Center | 8:00am – 5:00pm |   |
| Thursday | Revelle Room at Price Center | 8:00am – 1:00pm |   |
Please name you files using the following format:
Day-Presentation time-Presentation room-Paper #-Last name (e.g., MON-4-ROO-54-Castrillo). To obtain information on your presentation day, time and room, please review the "Short Program" posted online. Paper numbers will be in the Full Program; in the meantime, just use "#".  We will help you finalize your file name(s) during the upload.
Use the following codes:
Day – MON, TUE, WED, or THU
Time – 8 (for talks in sessions starting at 8:00 am), 10 (for talks in sessions starting at 10:30 am), 1 (for those in sessions starting at 1:00 pm), or 4 (for talks in sessions starting at 4:00 pm)
Room – THE (Theater), FOR (Forum), ROO (Roosevelt), or MAR (Marshall)
Poster presentation: Poster size can be up to 4'X4'.  Pins will be provided to set up the posters.
Please set up your posters starting 10 am Monday in Ballroom B at the Price Center.
You are required to be next to or near your poster from 4:00 to 6:00 pm on Wednesday, but we encourage you to visit the poster room when you have time earlier in the week to discuss your research work with others.
All posters should be taken down by
6:30 pm Wednesday
.
---
Deadline Summary:
Travel Awards - April 1 (closed)
Abstracts - June 2- EXTENDED until June 12 (closed)
Early Registration - June 15 (closed)
Jubilee Video Contest - July 13 - EXTENDED until August 5
T-shirt & Bag Contest - July 14 (closed)
Regular Registration - July 31 (online registration will close on this date) (closed)
Useful maps:
UCSD campus: https://hdh.ucsd.edu/docs/ucsdcampusmap.pdf
The Village (accommodations): https://hdh.ucsd.edu/conferences/docs/Map-Village.pdf
Price Center conference facilities: http://universitycenters.ucsd.edu/aboutus_floor_plans.php
5K Race course map (PDF)
UCSD Shuttle route map (PDF)
---
Registration: Registration, is open to anyone involved or interested in invertebrate pathology, microbial control, biopesticides based on pathogens of arthropods, and diseases of beneficial invertebrates.  SIP members get discounted rates for registration.  Visit the website to renew your membership or join the Society.
Registration fee varies from $375 to $675 depending on the deadlines, student/researcher status, and membership status.
Registering family for optional events & excursions
If you have additional guest(s) with your party, such as family, friends, or relatives, that will need to purchase tickets to the optional events and excursions, please click the "Add a new registrant" button outlined in red below after you have completed your registration. In the photo below, the primary attendee to the 50th Meeting is Sally Walden. Her family and friends – Thing 1, Thing 2, and the Cat in the Hat, will be joining on the optional events and excursions, and will not be attending the meetings themselves.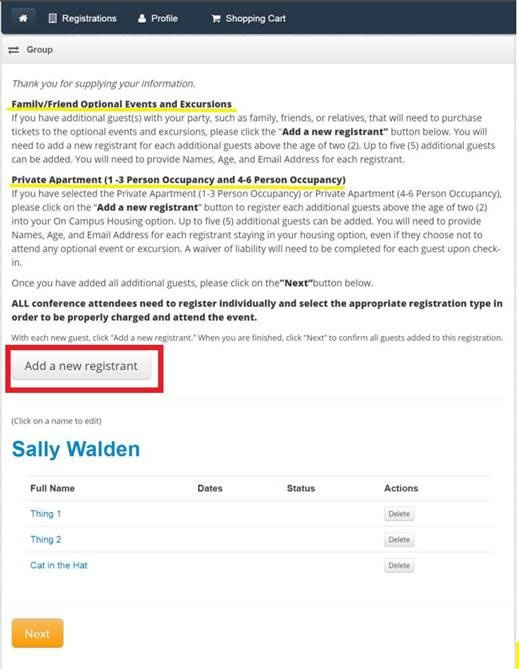 * Additional information for the Family/Friend Optional Events and Private Apartment selections have been emphasized in this photo with an underline. This is not how it appears during the registration process.
---
Accommodations: The Village apartments (2202 Scholars Dr N, La Jolla, CA 92093) on UCSD campus will be available for participants.  Daily accommodation rate is $135 for 1-3 guests or $185 for 4-6 guests in 2-4 bedroom apartments with bathroom, kitchen, sitting area, and free WiFi. Please indicate the names of registered participants that you prefer to share the apartment when you book accommodations.
**Housing on campus for the 50th anniversary SIP meeting is full so registrants will need to pursue hotels in the area. Hotel list. Registration for the meeting is still ongoing and the number of people registered has exceeded our expectations. Another option is to contact someone you know attending the meeting to ask if they have space in their apartment for you to stay. Many apartments were booked as private apartments and most have 3-4 bedrooms, some of which will be unoccupied.**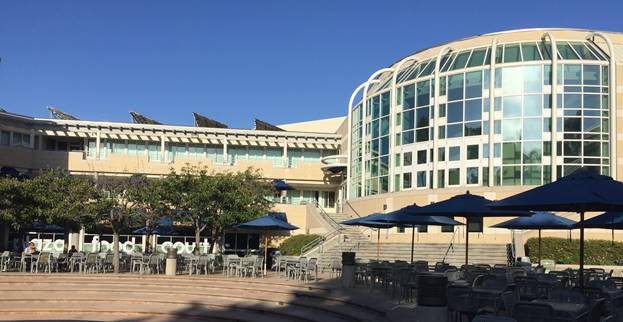 Price Center
Getting to UCSD: Those who are staying on UCSD campus should check in at The Village Conference Desk located at Torrey Pines West, Building 3, North Break (address for taxis 2202 Scholars Drive North, La Jolla, CA 92093).  They are open from 7 am – 2 am during weekdays and weekends. 
Served by San Diego International Airport, Amtrak train service and several long distance bus companies including Greyhound.
·      Distance from San Diego Airport to UCSD: 14 miles
·      Taxi fare from airport to UCSD: ~$50
·      Shuttle fare from airport to UCSD: ~$30 for first person, $9 for each additional person
*UCSD Campus Shuttle: To explore the UCSD campus and to go between The Village and Price Center, a complimentary campus loop shuttle is available.  Shuttle route, stops, and summer schedule are available here.
* Information for The Village Conference Desk. (Please scroll towards the end of the linked page for information specific to The Village Conference Desk.)
* Information for the Supershuttle.
* You may also use Uber or Lyft, which can be much cheaper depending on the time of your arrival and traffic conditions.  You would have to download the apps and set up your account.
---
Abstract submission: Please refer to the instructions and submit your abstract using the template.  Send your abstract to Rich Humber (rah3@cornell.edu) ONLY AFTER you register for the meeting along with the confirmation of meeting registration. Deadline for submissions is June 2.
**The deadline for submission of abstracts for the upcoming SIP meeting has been extended to Monday, 12 June. Any abstracts received after that date may still be included, but will be allowed only for poster presentation. At this time, please send your abstracts in MS-Word and, if possible, PDF formats to BOTH Richard Humber (rah3@cornell.edu)and Louela Castrillo (lac48@cornell.edu).
---
Awards and assistance: Students can apply for Division travel awards and compete for oral and poster presentations within each Division.  The prestigious Mauro Martignoni Award for outstanding student research and the Chris J. Lomer Memorial Award for students or scientists from less developed countries are additional awards and members are encouraged to apply.  SIP has also initiated the Early-Career Award to recognize early-career scientists.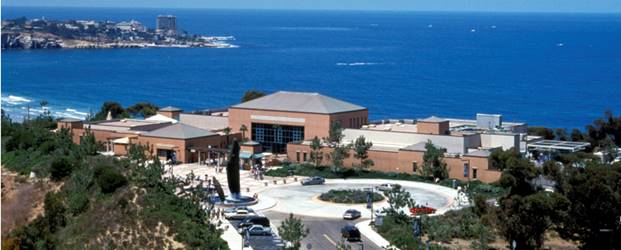 Birch Aquarium
Special session: To bring microbial control specialists, biopesticide companies together with growers and pest control advisors in California, 2nd Ag Innovations Conference: Microbial Control is organized on Sunday, 13 August, 2017 from 8 am to 5 pm.  A mini agricultural expo will also be organized for the industry partners to showcase their products and technologies.  Continuing Education Credits from California Department of Pesticide Regulation and California Association of Pest Control Advisors will be provided.  Seating is limited, so register early.   Visit http://ucanr.edu/AIC2017 for the agenda and registration details.
---
YouTube contest: Participate in the YouTube video contest by preparing a short video (no more than 3 min) on basic or applied aspects of invertebrate pathology.  Click here for additional details.
Golden Jubilee SIP T-Shirt and Conference Bag Contest: Check your closets, you may have a virtual gold mine of old SIP T-shirts and conference bags there. As part of our retrospective of the history of SIP for the Golden Jubilee Meeting in San Dieg, we are holding four retrospective SIP T-shirt and conference bag contests. Deadline July 14. Full Information.
---
Contact information:
General queries and letters for visa: Surendra K. Dara
Registration and local arrangements: Kelli Hoover
Scientific program: Rich Humber
5K Race: Nina Jenkins
Organizing Committee:
Chair: Surendra K. Dara
Local Arrangements: Kelli Hoover, Wendy Gelernter, Hyun-Woo Park, Dennis Bideshi, Patricia Stock
Scientific Program: Ed Lewis, Rich Humber, Lerry Lacey and Louela Castrillo
5K Race: Nina Jenkins and Ken Narva
Excursions: Raffi Aroian
---
---